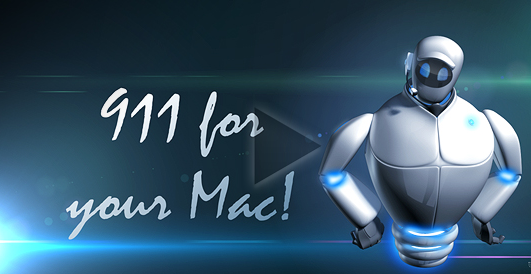 Over the past months, as I've journeyed across the web investigating pirate websites I found that many shared something in common (besides stealing content to profit off the work of others).  Along with illegal downloads to popular movies, often times the sites deliver pop-up ads for MacKeeper software, a product of Silicon Valley based Zeobit.
Ads and piracy go hand in hand.  It's how pirate sites make money.  Ads appearing on such sites run the gamut from Progressive Car Insurance to online sex chat, but more often that not it seems, I'm greeted by an advertisement for MacKeeper.
Had these ads been an isolated incident, it wouldn't bother me.  Unfortunately as far as MacKeeper goes, it's not limited to an ad or two here and there.  In fact, if you were to asking me the most common advertisement that pops up to fill my computer screen via pirate downloads, it's MacKeeper.  Below are just a few examples that I've recently come across after clicking an illegal download link that I was investigating.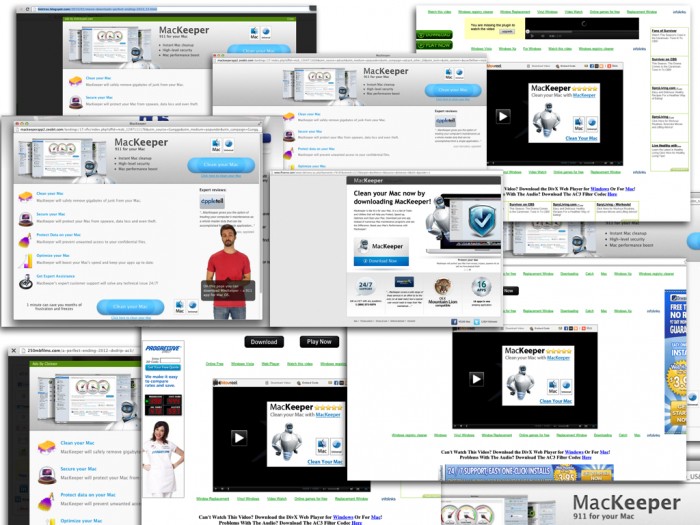 MacKeeper's advertising methods have generated controversy in the past, not because of the fact the company seems happy to partner with pirates, but because of their ubiquity.  According to a story published on Cult of Mac, the software itself isn't particularly popular among Mac aficionados for this reason.  The company's PR director Jeremiah Fowler explained their approach to advertising  to the Cult of Mac's Leander Kahney this way:
Legitimate Mac Users who are annoyed or tired of our advertising campaigns or partner's campaigns. Do we advertise? Yes! Do we advertise aggressively, I would not like to use that term but we do have a massive advertising presence online! [emphasis added] We have had 15,000,000 downloads of MacKeeper and have a less than 3% refund rate. The reality is that many people are truly happy with the product even if they hate the advertising (and unfortunately some do). The bad part is some people take their hatred for advertising to a level where they dedicate hours of their lives to making MacKeeper a "Forum Punching Bag"… In a perfect world there would be no advertisements on radio, TV, billboards or the internet, but this is not a reality. As long as there are ads, there will be people who hate them.

We believe that we have a great product and we want people to know about it and the only way to do this is to explore every medium of advertisement. [emphasis added] It is like investing everything in to a great restaurant and hiring the best chefs, buying the best food only to hide the location somewhere in the woods and then tell no one about it. Then wondering why no one comes to your restaurant? We are discussing phasing out our ads and trying to please the vocal minority, but we realize that pleasing everyone is impossible.
It's not the ads or the product that I mind, it's where their ads appear.   Given the fact the MacKeeper ads pop-up more often than not on pirate downloads, I think it's safe to generalize and say they must send a great deal of money the pirates way.  As Mr. Fowler made clear in his conversation with Cult of Mac, the company views its advertising methods as good business.  Never mind, it seems, who they are doing business with.
I've attempted to reach out to Zeobit for comment, but as is usually the case with Silicon Valley tech companies, transparency is not  part of their business plan.  Should I receive a response, I will be happy to update this post.
Ironically, the company touts its belief in "social responsibility" on its website's front page.  It seems that their view of "social responsibility" does not extend to creator's rights.  It's shameful that the company doesn't take action to prevent their ads from subsidizing what is, essentially, illegal activity.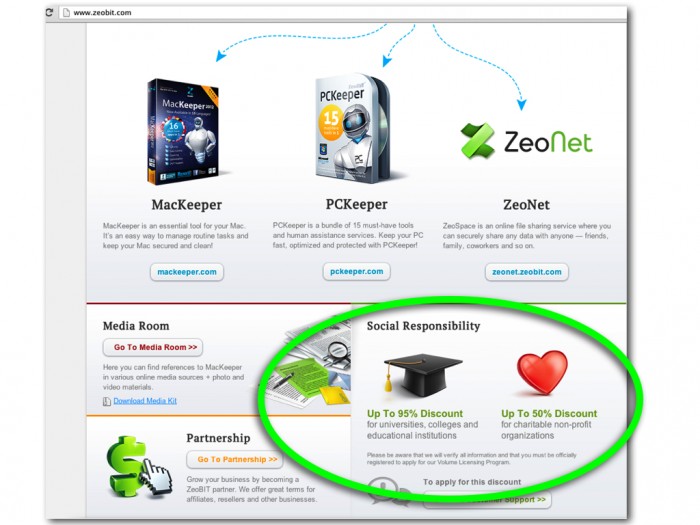 For the record, Zeobit receives an A- on the Better Business Bureau's review website.  From my perspective, the company should receive an F when it comes advertising accountability.  Per usual, profits trump ethics.
This post was also published at VoxIndie.org